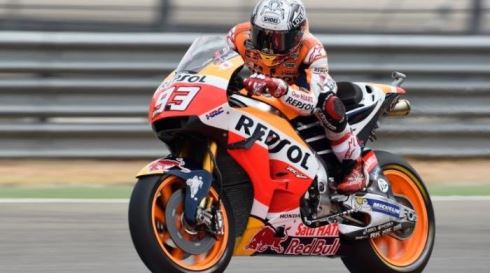 Marc Marquez berhasil memperbesar jarak poin dari para rival di klasemen setelah dia memenangkan seri grand prix Aragon, Minggu (26/9/2016) malam WIB. Selepas balapan, The Baby Alien mengaku dia perlu ekstra hati-hati untuk menghindari terjatuh.
"Ini adalah keuntungan yang manis, tapi kami harus tetap fokus karena insiden dalam kecelakaan sangat mudah terjadi," tutur Marquez, sebagaimana dimuat laman resmi MotoGP, Senin (26/9/2016).

Rekan satu tim Dani Pedrosa itu juga menuturkan bahwa musim ini hampir seluruh balapan di lakukan jauh dari ekspektasi di sesi latihan. Biasanya, menurut Marquez, jalannya balapan tidak akan jauh dengan feeling pada saat latihan.
"Setelah pemanasan, segalanya terlihat berada dalam kontrol. Tapi Anda tahu, di dalam balapan dan khususnya musim ini, feeling yang Anda miliki di atas trek kerap berubah," kata Marquez.
"Begitu saya keluar ke sirkuit, rasanya sulit untuk bisa mendapatkan feeling seperti yang saya miliki saat latihan. Tapi, saya memutuskan untuk tetap konsentrasi sejak balapan dimulai," sambung juara dunia dua kali MotoGP itu.
Dengan gelar seri di Aragon, Marquez saat ini memimpin 52 poin klasemen pebalap dari Valentino Rossi. Sementara dengan empat balapan tersisa, The Baby Alien menjadi sala hsatu kandidat kuat peraih gelar juara dunia musim ini.